The alarming report links the condition to a common infection in newborns.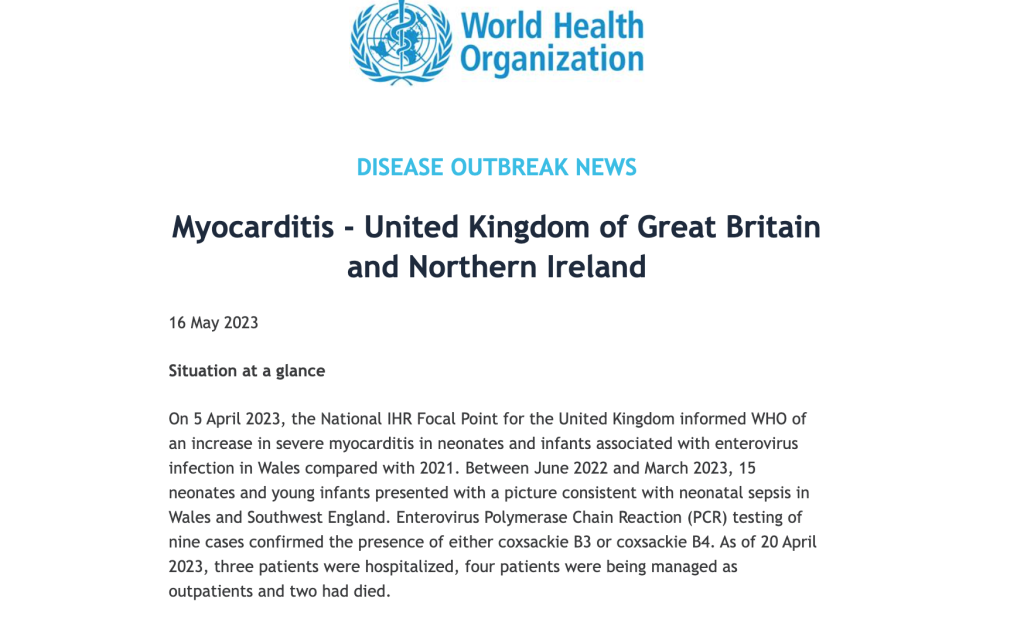 Screenshot
A surge of newborns and infants in South Wales and Southeast England have presented with severe myocarditis, a press release from the World Health Organisation (WHO) announced.
WHO was alerted to an outbreak of 15 cases severe myocarditis in neonates and infants in Wales and Southwest England on 5 April, an increase compared to 2021, by the National International Health Regulation Focal Point for the United kingdom
The WHO claims the surge in myocarditis between June 2022 and March 2023 is linked to enterovirus infection. Fifteen newborns and young infants, aged up to 28 days, presented with neonatal sepsis.
PCR testing was used to establish the link with enterovirus.
"Although enterovirus infections are common in neonates and young infants, the reported increase in myocarditis with severe outcomes in neonates and infants associated with enterovirus infection is unusual," the press release stated.
"Between June 2022 and March 2023, a total of 15 neonates and young infants, aged up to 28 days, presented with a picture consistent with neonatal sepsis from two regions of the United Kingdom: South Wales (10 cases) and Southwest England (five cases). Eight cases were treated in intensive care, and one case died before transfer to tertiary care.
"Further details on the remaining six cases which were identified through retrospective and prospective case finding are pending. In all cases alive at presentation, myocarditis was a presenting feature. The peak incidence of cases was in November 2022 (five cases), with sporadic cases in other months."
Nine cases were presented at hospital. As at 20 April 2023, three were hospitalised, four were being managed as outpatients and two had died. The babies had severe left ventricular dysfunction on initial echocardiography.
This is unusual. The South Wales hospital where babies were presented had seen just one other similar case in the previous six years.
While the WHO is associating the myocarditis with enterovirus, it is not drawing any link to covid-19 vaccination, which may raise eyebrows among some researchers, given Pfizer's own data.
"No specific antiviral therapy is available, and treatment focuses on prevention of complications. As there is no vaccine for this virus, control measures during outbreaks are focused on classical hygiene measures including frequent handwashing and disinfection of soiled clothing and surfaces. In certain situations, it may be advisable to close child-care facilities and schools to reduce the intensity of transmission."
Without making any claims about the cause of this outbreak beyond what has been reported, some red flags come to mind, including rates of covid vaccination among pregnant women. By December 2021, more than half of all pregnant women (54%) in England had received at least one dose of covid-19 vaccine.
Here are some others.
Sign up to receive our newsletter
PCR testing
Polymerase Chain Reaction (PCR) tests are considered by some experts as an inappropriate diagnostic tool and in fact, manufacturers often have disclaimers stating they are not suitable for diagnostic purposes as they are non-specific.
What PCR does is take a minute sample of DNA and multiply it millions of times to provide sufficient material to allow for genetic and molecular analysis – but this can be overcooked depending on cycle thresholds, which exponentially doubles the amount of DNA with each cycle.
Inventor Kerry Mullis, who died in 2019, famously said that a PCR test "doesn't tell you that you are sick. These tests cannot detect free, infectious viruses at all."
Dr. Sam Bailey has covered this problem thoroughly, and even claims that the covid-19 'pandemic' was a pandemic of PCR testing:
"Some doctors have suggested that 30 cycles should be the upper limit for "covid-19" cases. (Because of the points raised I don't believe that it is valid at any cycle threshold. However, those that promote the 'test' need to agree on some parameters) …
"Perhaps the biggest warning of how PCR tests could go horrendously wrong was with the false Pertussis epidemic in New Hampshire in 2006. The PCR kits they rolled out were thought to be reliable but when it was finally compared with the gold standard: formally finding the bacteria Bordetella pertussis from patient samples, they were found to be 100% wrong. With regards to 'covid-19' it is even worse as there has been no gold standard to compare the PCR to – one of the major reasons this alleged pandemic can be sustained without check it seems," Bailey said in 2021.
In New Zealand, this OIA response implies that the cycle threshold used for covid-19 testings is 40. Dr. Anthony Fauci even said back in 2020 that "if you get a cycle threshold of 35 or more … the chances of it being replication-confident are minuscule."
The use of PCR here to link the outbreak of infant myocarditis to enterovirus is likely to be seen by sceptics as misdirection.
Myocarditis and covid-19 mRNA vaccination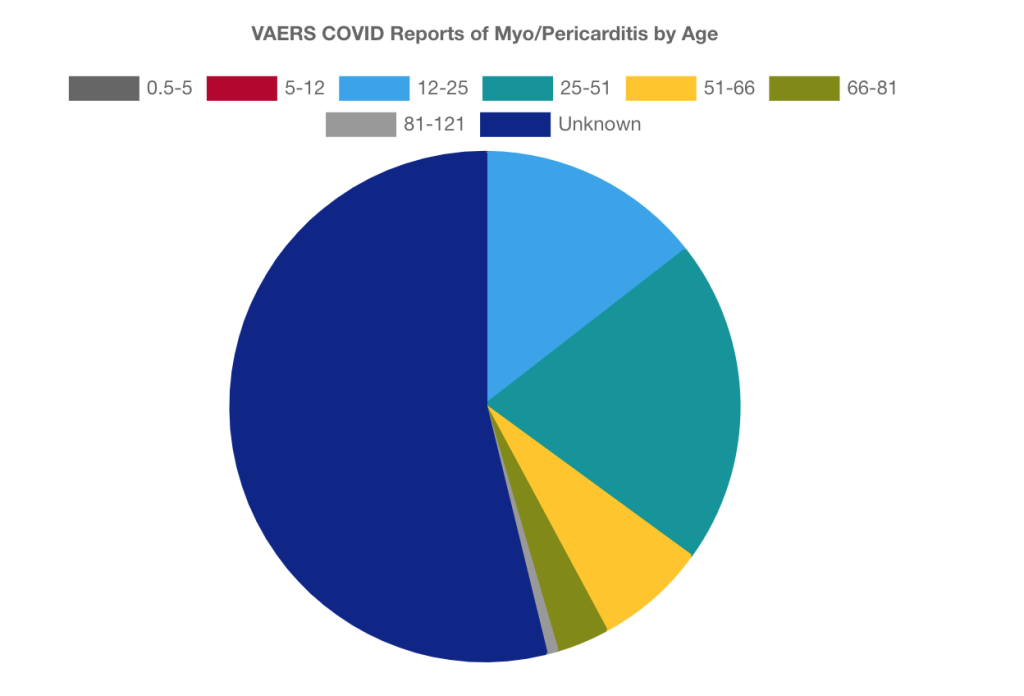 Graph from Open VAERS, data as at 12 May 2023.
It's far from a secret now that among the many adverse reactions to these injectables, inappropriately called 'vaccines', is inflammation of the heart muscle. Pericarditis, inflammation of the tissues surrounding the heart is another common adverse reaction.
US National Organisation for Rare Disorders says myocarditis can result form infections or more directly from the effect of a toxin or virus.
Rates of myocarditis across all age groups has skyrocketed since the global rollout of these shots, and has been particularly noticeable among young people, traditionally not at risk of the disease.
Confidential Pfizer documents from May 2022 leaked in March revealed the company had "evidence that suggests patients who receive a covid-19 vaccine are at an increased risk of myocarditis," evidence withheld by Centers for Disease Control and Prevention (CDC).
"Reported cases have occurred predominantly in male adolescents and young adults > 16 yo. Onset was typically within several days after vaccination (from Pfizer or Moderna), and cases have occurred more often after the second dose than the first dose," one of the leaked documents states.
The CDCs Vaccine Adverse Reporting System or VAERS database, as at 12 May, shows 26,955 cases of myocarditis and pericarditis have been reported from covid-19 injections. It's acknowledged that adverse reactions to vaccines go massively underreported, and VAERS is considered to capture just 10% or less of all adverse reactions.
Sign up to receive our newsletter
Pfizer knew the covid injection harmed babies
Investigative journalist Sonia Elijah, who was interviewed recently by Reality Check Radio, has been covering injuries to babies from the covid injections, and published a report about the outbreak of myocarditis in babies earlier this week on her Substack, however it is behind a paywall. Keep an eye out for further analysis from Elijah in the coming days and weeks.
However, recently she told RCR about her work analysing Pfizer's Cumulative Analysis of Adverse Events Reports, which covered a three month period between December 2020 until the end of February 2021.
The report revealed that 270 post-authorisation reports involved pregnancies. Of these, no outcome was provided for 238 cases (how did they lose them?). In the remaining 38 cases, 23 spontaneous abortions were reported, two premature births with neonatal death and two cases of spontaneous abortion with intrauterine death.
Elijah uncovered more shocking evidence of what Pfizer knew in her recent report on its Pregnancy and Lactation Cumulative Review, which revealed the spike protein was passed to babies trans-placentally and through breast milk.
In the report, which was signed off on 20 April 2021, covering the period from drug development until the end of February 2021 – before it was being promoted to pregnant and breastfeeding women – Pfizer identified 458 pregnancy cases and 215 cases that involved an adverse event following exposure via breastfeeding, from its own pharmacovigilance safety database.
Of the breastfeeding infants, 20% experienced over 40 different types of adverse events, including facial paralysis and blurred vision – from drinking the breastmilk of their vaccinated mothers.
From the pregnancy cases, there were 53 reports of spontaneous abortion. Of those, there were six cases of babies being exposed trans-placentally (while still a foetus) to the injection, leading to premature delivery including two deaths. Another case was of foetal tachycardia (a heartbeat of over 160 bpm) after the mother received a second dose of the injection – the outcome of this case was recorded as unknown.
Health Authorities in New Zealand are currently promoting the third booster to pregnant women. As does the WHO, which in its press release did not mention if the mothers of the babies suffering from myocarditis were vaccinated. Many would consider this a fact worth knowing, but evidently WHO doesn't think so.
And worryingly, it looks to be happening all over again.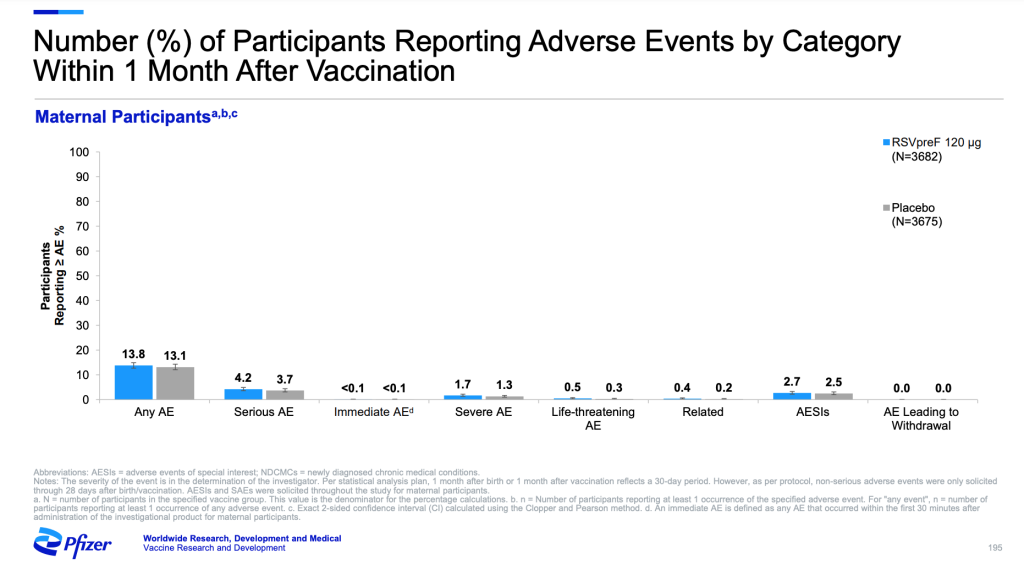 Graph showing adverse reactions suffered by participants of Pfizer's mRNA RSV vaccine trial, approved for pregnant women last week.
The CDC has just approved another Pfizer vaccine for pregnant women – the RSV shot. During a presentation in the Vaccines and Related Biological Products Advisory Committee (VRBPAC) meeting last week, committee members and medical experts raised concerns about premature births identified during Pfizer's clinical trials, but were brushed off.
It wasn't just babies being harmed – data reported by Pfizer to CDC showed 14% of pregnant women who participated in the trial suffered an adverse event, and 4.2% suffered a 'serious' adverse event, 1.7% experiencing a 'severe' adverse event and 0.5% suffering a 'life-threatening' adverse event.
All this was known and it was still approved.
Sign up to receive our newsletter