An ominous change from advisory to mandatory recommendations at the WHO is afoot – but the public are getting wise, reports Keri Molloy.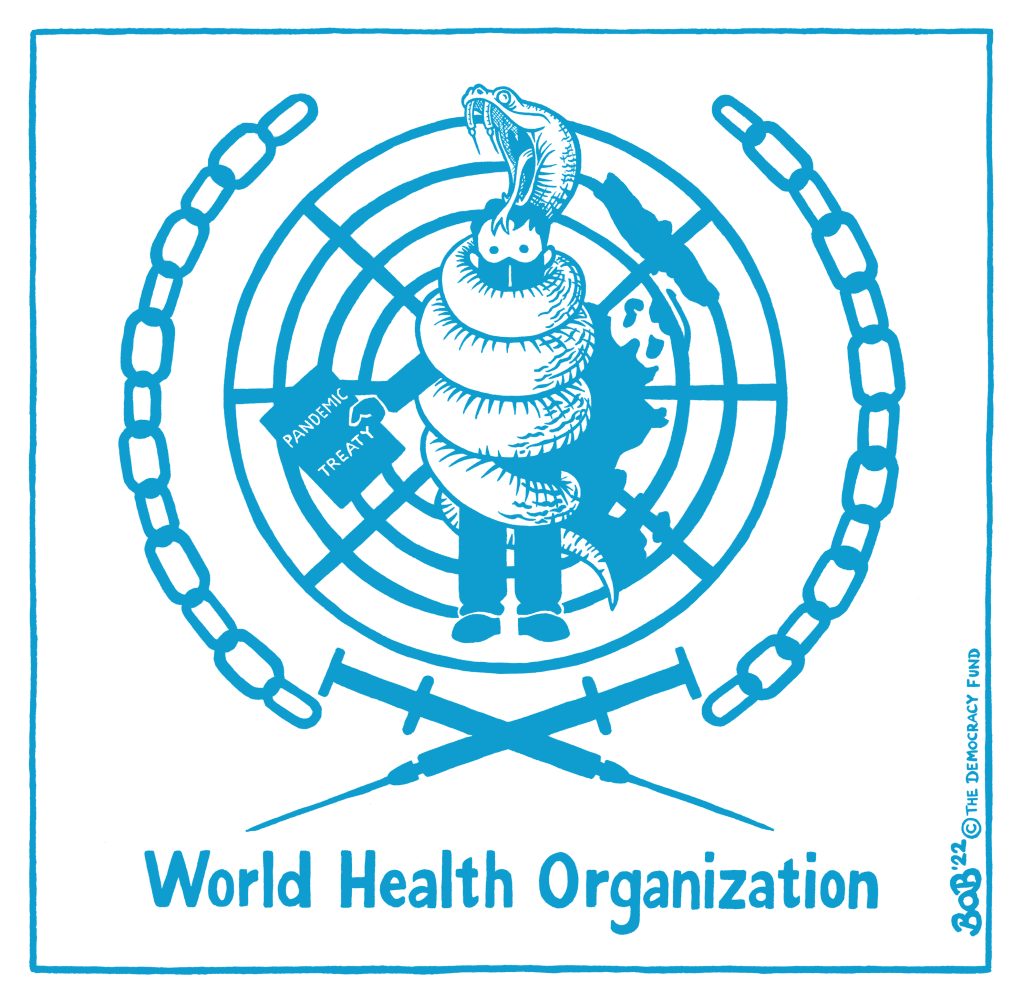 Credit: Bob Moran
There's a snowballing awareness about the World Health Organisation (WHO) and its campaign for sweeping global powers.
The WHO is driving:
Amendments to the 2005 International Health Regulations (IHR)
A pandemic treaty, that it now calls an 'accord'.
Other new WHO initiatives are:
PRET (Preparedness and Resilience for Emerging Threats), which includes the development of 'a global implementation roadmap'.
Health Emergency Preparedness response and Resilience (HEPR).
We're looking at the introduction of digital health on a scale that could see WHO directed requirements for vaccine passports, require surveillance, require compliance and require member states to use certain medications while prohibiting others during a WHO declared emergency.
The WHO's initiatives are not something that is happening far away in Switzerland. New Zealand is deeply involved and the outcomes will affect everyone.
The trouble is it will be very difficult to back out if the government and its delegates lock us in.
New Zealand must uphold a treaty it has signed if the government has ensured it is law in New Zealand.
If new legislation is needed, the government will 'wait' for Parliament to pass any legislation before ratifying the treaty.
In the end, the power to enter into or withdraw from the WHO's treaty will sit with the Prime Minister and Cabinet.
In the meantime, proposed amendments to the International Health Regulations (2005) can simply be approved by unelected delegates.
There will be no referendum to gauge public opinion about our involvement with the WHO.
Questions about New Zealand's part in the WHO campaign, put to Prime Minister Chris Hipkins, sat in his in-tray for six weeks.
An Official Information Act request has now been lodged.
Sign up to receive our newsletter
With four months to go before our election some politicians are waking up and perhaps reading the mood of voters, while the mainstream media continues to exercise wilful blindness to one of the most significant issues affecting New Zealanders.
For example, The Spinoff's Duncan Greive, in true form as a mainstream journalist, refers briefly to the topic of ceding sovereignty to a global body as 'a conspiratorial question'. NZ First and Grey Power | The Spinoff.
Greive was covering a Grey Power meeting featuring NZ First leader Winston Peters.
In reality the term 'conspiracy' no longer carries the note of derision it once did.
Peters is one of few politicians who has voiced an opinion about the WHO. On May 25:
"New Zealanders will be highly concerned that the World Health Organisation proposes to effectively take control of independent decision making away from sovereign countries and place control with the Director General". (1000 likes.)
"WHO International Health Regulations on future outbreaks of disease aim to give the Director General extraordinary and wide-sweeping powers. The Labour govt, PM, and Health Min have not told the New Zealand people the details of these proposed changes which is simply alarming." (4,000 likes).
"It seems Labour has learnt nothing from the handling of COVID-19 or from the numerous mistakes such as unnecessary lockdowns, removal of freedoms, and barring Kiwis from their own country."(8,000 likes).
"The inquiry into the handling of COVID-19 in New Zealand reports a year from now. So why in the absence of the inquiry's findings is Labour contemplating the bloated demands of the Director General of the WHO? Or is globalism all this government thinks about?" (9,000 likes).
Overseas, opposition to the WHO's actions are picking up.
In the UK, a group of MPs have raised concerns about the WHO's plans, and 'the serious absence to date of Parliamentary scrutiny and accountability'. Letter to Ministers.
Other European politicians have sent a stronger message: Member of the European Parliament Mislav Kolakusic told his colleagues: "The misinformation about COVID-19 spread by officials and public health workers around the world was not just harmful lies but a complete betrayal of citizens. Those lies have severely damaged the credibility of the public health systems, and the consequences will be permanent. The World Health Organisation should be declared a terrorist organisation because of the damage it has caused and the lies it has spread. Today, it would be safer to sign contracts with the Colombian drug cartels than with the WHO." Mislavkolakusic.
In Denmark a Northern Light Convention was held this month. Organiser Mads Palsvig explained: "We oppose global totalitarianism. I call it the Moral Masquerade of Tyrants. The June 15-17 Convention featured 40 speakers, including two US Army generals, doctors, authors, politicians, activists and lawyers and New Zealand lawyer and politician Sue Grey. scandinavianfreedom.events/2023.
US researcher James Roguski has been keeping his fingers on the WHO's pulse and translating the organisation's intentions into simple language. A call to take action.
Sign up to receive our newsletter
Also in the USA, former WHO scientist David Bell, writing in the Brownstone Institute's June 12 newsletter, comments, "No rational democracy would countenance outsourcing its governance to others. Enthusiasm for such an institution could only come from national leaders who are working for other interests, or capable of being coerced."
David Bell is a public health physician and biotech consultant in global health.
He writes:
"In two years' time, when the IHR amendments come into force, this organisation directed by a combination of dictatorial regimes, Western bureaucrats, corporate and private sponsors will be telling we-the-people whether we can work, see our families, or travel. It will tell us when we must be confined, examined, tested, and injected (Article 18). They will have 'undertaken' to follow a long list of other directives that the Director General will dictate, and to suppress our disagreement should we complain (amendment to Article 33)."
Bell outlines how things will change for countries that go along with WHO's plans: "States will have "undertaken" to follow all future recommendations (Article 1, new art. 13A) from the Director General regarding the management of health emergencies, whenever he/she decides that something within the biosphere might pose a threat. A massive surveillance program, costing more than three times WHO's annual budget, will ensure such threats are found.
He warns: "States will need to have actively rejected proposed amendments to WHO's International Health Regulations, or the Director General's dictates will have force under international law. Alternatively they can leave the WHO altogether. As this takes over a year, such action would have to start soon."
Remember New Zealand's former Director General of Health, Ashley Bloomfield, co-chairs the Working Group for the amendments to the International Health Regulations (WGIHR) with Abdullah Assiri who, at last month's World Health Assembly, infamously called for pandemic control efforts at the expense of individual liberties.
Proposed amendments to the International Health Regulations (2005), are designed to be complementary and compatible with the WHO treaty, (WHO CA+).
Joint sessions of the WHO's Intergovernmental Negotiating Body and the Working Group on Amendments to the International Health Regulations are scheduled for July 21 and 24 July 2023.
Negotiations on the draft pandemic accord will aim to produce a final draft for consideration by the World Health Assembly in May 2024.
Sources
Bureau's text of the WHO convention, agreement or other international instrument on pandemic prevention, preparedness and resp
An Unofficial Q&A on International Health Regulations ⋆ Brownstone Institute
Countries set out way forward for continued negotiations on global agreement on pandemic prevention, preparedness, and response
This article was first published at Keri Molloy's Substack and is republished here with her permission. Keri is an artist and concerned citizen of New Zealand with 40 years experience as a journalist.
The views expressed in this article are the author's own and do not necessarily represent or reflect those of The Looking Glass.
Sign up to receive our newsletter