A Judicial review of the evidence underpinning the Pfizer rollout to five-to-11 year olds will take place later this month.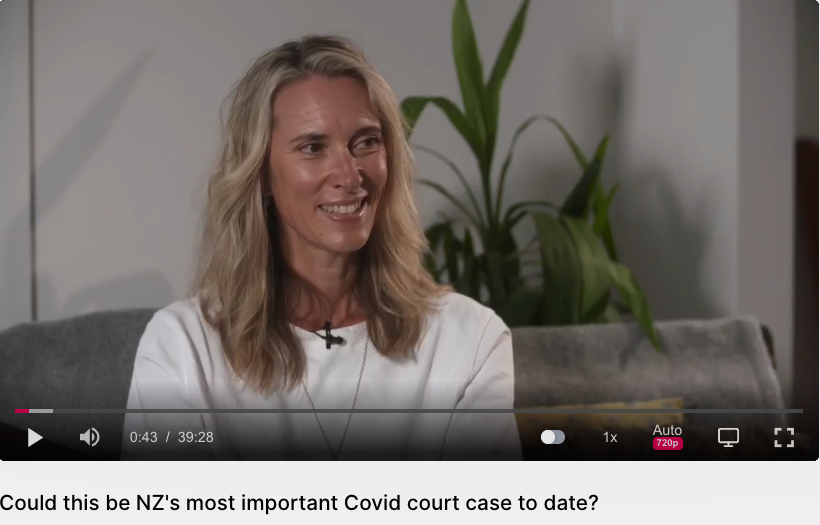 The 'Hood, a collective of parents, doctors, scientists and concerned citizens is continuing with its judicial review of the Government's decision to roll out the covid for five-to-11 year olds.
An interim injunction held in January with the aim of halting the roll out was not successful, but the review is still active. On 27 and 28 June, the substantive part of the case will be heard in the High Court in Wellington. Expert evidence from both the applicants and the crown will be argued.
Judicial review works by filing an application with the court, with a statement of claim, asking for a decision made by the Government to be reviewed by a judge. The evidence is done using paper reports, rather than in-person testimony.
The 'Hood is challenging the evidence underpinning the decision to roll out the Pfizer injection to children with a cohort of local and international experts. The group has been working with these experts for about seven months, starting with the interim injunction earlier this year. Further materials have since been produced.
The 'Hood directors Sereca Friend and Nicola Culver ran two webinars in the last week to raise awareness of the case, and to drive public donations for the $250,000 court case.
"One of the key components of a medical regulator is to consider the risk/benefit ratio. We have a product approved not in the ordinary course, and is only provisionally approved, without the benefit of having seven years of trials due to pandemic emergency laws. Our position is that it is all risk and no benefit for kids, and also for adults …
"We didn't have a problem finding experts to speak out, especially with regards to injecting children," they said.
All experts consulted were adamant children should not receive these shots.
Expert evidence is provided by:
Belgian immunologist Gert Van Den Bosch, who makes the case for the strength of children's innate immunity.
Dr Robert Malone, one of the inventors of the mRNA technology is providing evidence about the history of the technology, why it never really got off the ground, and why children should not receive these products.
American Cardiologist Dr Peter McCullough has treated covid patients en mass and was responsible for devising early treatment protocols for covid. In particular he discusses the high rates of myocarditis and pericarditis following mRNA injection. Counter to Government messaging, he says these conditions are never minor or mild.
Statistician Lisa Mitchell has produced a report based on data and safety reports from New Zealand's vaccine adverse events reporting system, CARM. She found that compared to the pre-covid era there has been more than a 5200% increase in adverse events reporting after vaccination with the covid shots.
Dr Philip Altman, a consultant with more than 40-years experience designing, managing and reporting on clinical trials has produced a report on the application process for the Pfizer product's approval to Medsafe. His analysis looks at whether the injection should have been approved, given that Pfizer's own data shows harm being caused. The Government has said all along that the risk from the jab is nil to negligible.
Professor Nikolai Petrovsky, a vaccine maker from South Australia also provides a perspective on Pfizer and the drugs regulator, Medsafe.
Professor Byram Bridle, a Canadian immunologist has produced a report on how the mRNA lipid nanoparticle do not stay in the injection site but travel around the body and accumulate in different organs, "flying in the face about the safe and effective narrative".
Dr Martinelli, an economist from New Zealand has done cost/benefit analysis on vaccinating children and produced a simple percentage, which shows all risk and no benefit to children from the covid injection.
Dr Simon Brown, a local immunologist has produced a report based on a thorough review of all the scientific literature now available on the covid mRNA injection.
The legal team consists of solicitor Shelley Eden, David Jones QC and junior barrister Tom Molloy.
Speaking to Chantelle Baker in May, David Jones QC said: "One of the key issues … is to ensure there is transparency going forward because it's been pretty opaque to date … We want fully informed decisions, that's what this case is all about … There is a lot more information out there that should and could have been taken into account …"
One important piece of information almost no one is aware of is that the product approved by Medsafe is a different formulation to the one used by Pfizer in its trial in support of its application. It contains two extra ingredients, making it a new formulation.
"Everyone of our experts who commented shook their head in disbelief about this fact."
Friend and Culver both noted that it's important to see this case through because "these jabs aren't stopping".
Pharmaceutical companies are developing boosters, vaccines for new viruses and are continuing to pursue of approval of covid-19 jabs for babies six months old and up.
"We want to make the Government answer questions – they have been ignoring us. There needs to be due and proper process, and fulfilling their obligations."